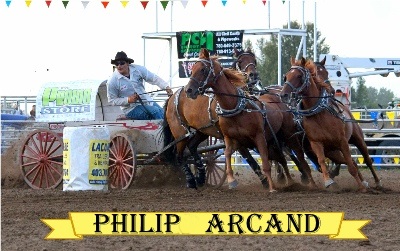 Phillip started racing carts in 2006 and jumped into the wagon box in 2010. He won rookie wagon of that year. He has won a few shows and taken various day money's along the way. He likes traveling with his family all summer and running against his father when the opportunity arises.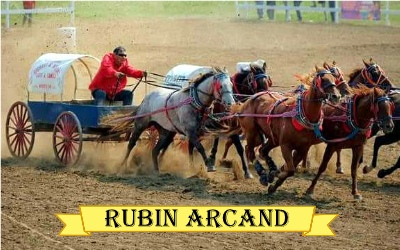 Robin started racing in 1978 at age 16. He moved to wagons in 1979, He raced both carts and wagons until 1993 then left the racing scene to raise a family and start a career. In 2016 he came out of retirement to race wagons with his son Philip. He's been bitten by the ``horse bug`` again. He is looking forward to a great racing season..
Garnet started driving a chariot in 2013 after traveling alongside his son Allan. He won rookie chariot driver that year and came back in 2014 in the wagon seat. He recieved the wagon rookie buckle and 11th place overall that year. Since then he has been consistently near the top placing in the top 4 out of 6 years. He was 3rd place wagon at the end of 2019. Garnet has also won the Jim Becker Memorial Wagon Saftey Award and the Leo Cartier Memorial wagon horse of the year award. We are thankful for good horses, good freinds and great sponsors.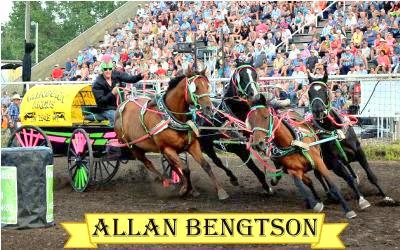 Started carts and wagons 2010
In that year he won rookie in both chariot and wagon in the APCCA. He has continued his success with 2014 finding him 4th place in the carts.In 2016 he ended up the season in 3rd place in the wagons. He has also received the Greg Smith Memorial Award, Most Sportsmanlike Driver Award and Cartier's Neckyoke Bunch award for left wheel and left cart horses of the year. During this time his family has expanded with his beautiful wife Samantha and two precious daughters Kendyl and Jayd. Allan continues to thank his sponsors and looks forward to this coming race season.
started carts : 2011
Sam won the 2011 Central Club as well as the Border Club rookie of the year. She has also received the APCCA Most Dedicated Driver Award. In 2017 she ended the season winning the lucky 13th spot buckle. Sam also served as show director for the APCCA for a two year term. She has two precious daughters Kendyl and Jayd. They are her biggest fans. She continues to thank her sponsors and is excited for the upcoming race season
Carter is from Grand Prairie and goes to school in grade 11. This is his second year of racing. He became interested in racing when he got involved with the Stott mini wagons. In the off season he plays AA Midget hockey. .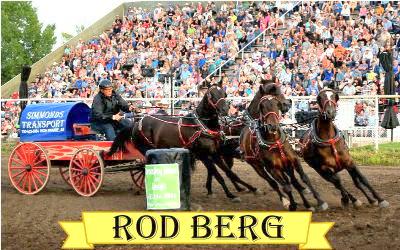 started carts 1975 wagon 1977
He has raced with the Northern club and Peace River Association. He is a retired Recreation Facility Manager for High Prairie. He and his wife Heather travel all over Alberta and Saskatchewan all summer to get to as many shows as he can.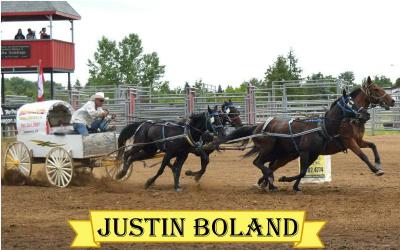 started carts 2013 wagons 2015
He has been around racing all his life and is a 3rd generation driver.He spent the summer of 2012 traveling with his dad, Rod and brother Glen, helping out. In the off season he drives a vac truck.He started out in carts, with help from his dad. He now is starting his second season in the wagon with help from his wife and son.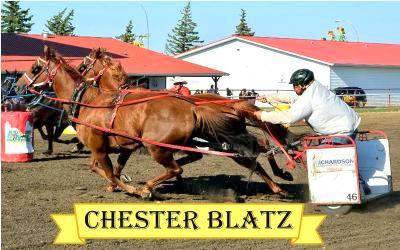 started carts 2003
Farms in Kelsey AB., runs three carts and has won first in Buck Lake in 2008. Took second in 2009 and third in 2010 overall points.In 2011 he dropped to 11th then in 2012 and 2013 was back up to 4th.2014 saw him in 2nd place overall again. Leach's usually drive his teams. He was influenced by Garth and Marty Maxwell. Chester is more involved by serving as an Associate Director for the APCCA.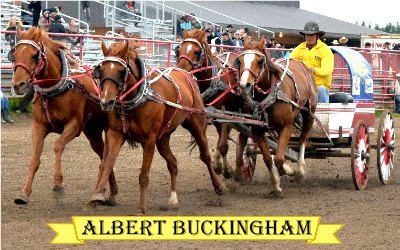 Started carts 1988 wagon 1993
He lives twenty kms west of hwy#1. He started traveling with his uncle in the seventies, helping him and later running his cart at shows in Sask. In 1988 he started building chariots on a bet and lucked out and is still making the Buckingham cart. In 1991 they rolled the wagon at his uncles place while exercising, which ended his racing and he sold everything. Albert owned one horse and a cart so he bought one more horse and a trailer and went racing. In 1992 he ran two carts. In 1993 he started with a wagon, racing in Sask.In 2006 he came out to Alberta and put in a few shows and every year got more shows in. Now he stays out for the whole summer.In 2012 he was voted for the APCCA Most Sportsmanlike Driver.He is very proud to have been picked for this award.
Oscar started racing in 2000 when he started following his father-in-law Ron Morrison. He raises ,trains and sells horses to other drivers all across Alberta and Saskatchewan.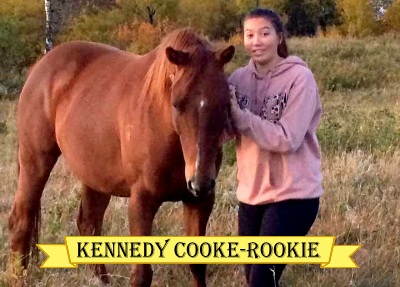 Kennedy has been wanting to race since she was a little girl, it is what she has always loved to do. Following in her fathers footsteps is very exciting for her. Kennedy is a 3rd generation driver. She is super excited to start her 2019 season as a rookie.
Mike started racing chariots in 2000 and then in 2002 started driving a wagon. He has been serving as a director since 2014 in the APCCA. Mike picked up the most sportsman like driving award in 2013 and the Greg Smith memorial in 2014. In 2017 he won hi-point champion as well as the safe drive award. 2018 he finished 2nd overall in the APCCA.
Mike would like to thank his family and sponsors that help him get down the road!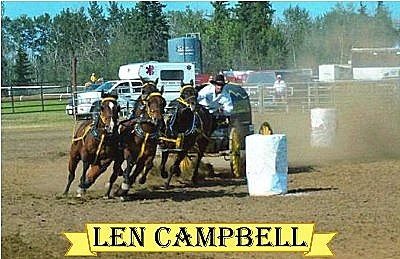 Len never owned a horse until after a couple of years of sponsoring the sport, he then decided to try racing for himself. Len was the 2010 All Pro Chariot rookie as well as the Whitecourt champion. Len was the 2011 chariot champion of Rio Grande, Kikino and Heartlake. Now with the addition of a few more horses and a wagon this brings new challenges.
Home: Mannville AB. started racing 1986 . He started driving
horses with his father and four brothers and drove for eighteen
years before moving to the WPCA. He ran there for seven years
before announcing his retirement from them. He posted six top
ten runs including two that cracked the top five.In 2007 he won
the Calgary Stampedes Orville Strandquist Award for Top Rookie
Driver. He has since been with the CPCA and is now back with
the APCCA, where he started. He has served as President and
now just enjoys racing.

Carman is no stranger to the sport of chuckwagon racing. He has won many shows and races in the past 30 years
He retired a couple years ago but can't seem to get the sport out of his blood.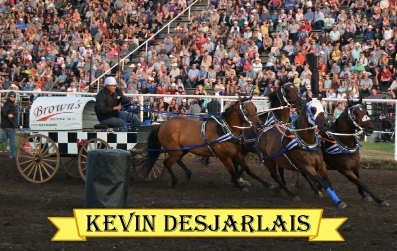 Kevin started racing in 1988 and moved to wagon in 1997. He is a second generation driver following his father Henry Desjarlais. Kevin has won numerous championships and is always a top contender.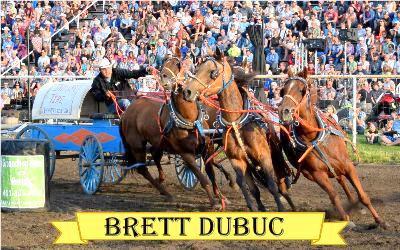 Brett has been around the races his entire life.His Grandpa, Dennis and his Dad, David have been racing for many years and it has truly become a family sport. Brett has an older brother who also took up the sport of racing and his mom and sister are always there to cheer them on. Brett started racing his first chariot when he was 15 years old and made the jump to the wagon box when he was 18. Before this, you would always see Brett around the track holding for multiple different outfits and offering a hand whenever needed. Brett's wagon year was quite memorable for him last year (2019), winning two shows -- Edgerton and Sedgewick, and finishing as the second place wagon in Alberta. Brett gives much credit to his family, especially his Dad, for always being there to support him. Brett has a love for the horses and the sport. You will often find him with a smile on his face and always up for some fun. He is very excited to see what the 2020 race season has in store.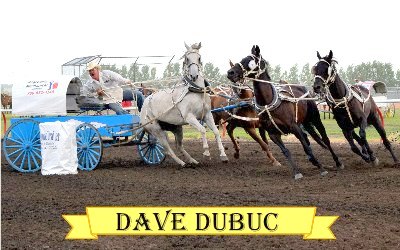 David has made the sport of racing a family affair. He has raced for more than 25 years and in that time, has passed down his love for the sport, to his family. David's wife, Rachel and their three kids have followed him around the race track since day 1. David's two sons have both raced chariots and chuckwagons. His daughter will also be found at every race, helping where needed. David loves watching his sons in the wagon box and is so proud to see them succeed. David's outfit is always competing in the top and is one you will spot at all of our Alberta shows. David has spent countless hours volunteering for the APCCA. He has served as President and Director for many years. The Dubuc camp is always a welcoming environment and a fun place to be. David is looking forward to the 2020 race season.

Started: carts and wagon 1988
Over the past 30+ years Dwayne has completed over 770 successful races at more than 265 rodeos, fairs and other racing events. Over that time he has been fortunate enough to have driven both chuckwagons and chariots to show championships and consistently places in the top 10. . Dwayne's horse ``Billi`` has won the 2012 and 2014 Cartier's Neck Yoke Bunch right pole horse of the year award. Rebel was the winner of the 2016 left chariot horse award and the 2018 left lead horse award. Dwayne is currently serving as the president of the APCCA and actively promotes the association and the sport of racing both locally and internationally. In 2017 Dwayne's passion for racing was rewarded as he was the winner of the ``volunteer of the year`` as well as the ``dedicated wagon driver`` award.In 2018 Dwayne was the winner of the chuckwagon tour championship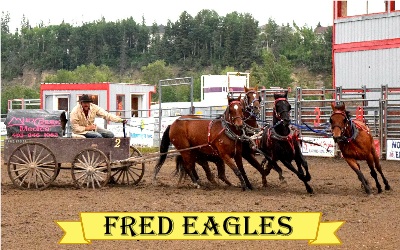 Started cart -1999 wagon -2008 Fred and his son live in Mirror
AB. but grew up in SW Ontario.He started early riding in
gymkanas and flat races at the age of 5. He works on the drilling
rigs all over western Canada to finance his love of horses and
racing. Anytime you see Fred around the race track he will have
a smile on his face because he loves to have fun.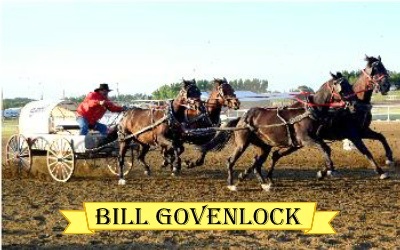 Started carts in 1981 wagons in 1982
Bill has always loved horse & started traveling to the wagon races with a family friend that raced in Saskatchewan where he grew up. 1981 was the year he started driving chariot & the following year started driving wagon. He raced in Saskatchewan until 1987, then took a couple years off. Bill returned to the track in 1989 after moving to Alberta in 1987, where he raced for 2 years. His love for the sport has never weakened & after several years off he returned in 2004 where he drove chariots for other people. In 2008 he bought 4 horses & started again with 2 chariots & in 2012 started driving wagon again & is still looking forward to a few more years. He loves traveling to the shows with his family, and the people & friends he has met and made, is incredible.
Bill has been an associate director, a director & on different committees for the APCCA.
Bill has won Sportsmanship Driver Award, the Greg Smith Most Sportsmanlike Driver Memorial Award, the Jim Becker penalty free driver award, the Mark Harris Hard Luck memorial award & a couple top 5 year end finishes in the chariots. The memorial awards are his biggest wins. In 2019 he was joined by his grandson Wyatt driving mini wagons, & in 2021 another grandson, Hudson started as well.
2022 was a huge year. One of his granddaughters Makayla, started driving mini wagons as well. His daughter Deanna started driving chariots, & Wyatt was old enough to drive chariots as well in August of that year. Waiting for the chance where all 3 are hooked together on the same heat.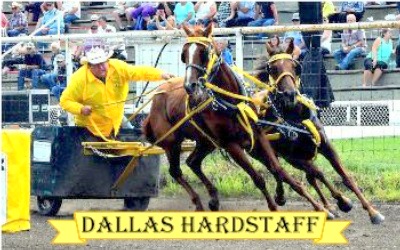 Started driving carts 2009
In his first season of racing he won the Border Club rookie carts.
He is a parts person by trade and enjoys training horses in his spare time.
He is an accomplished holder for his dad and his brother Kelsey.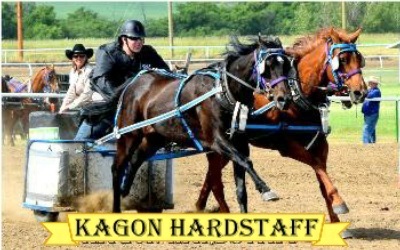 Started carts in 2015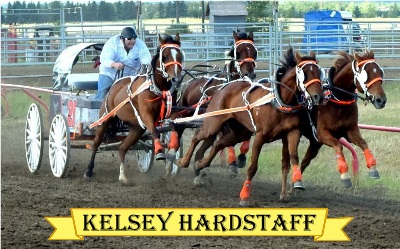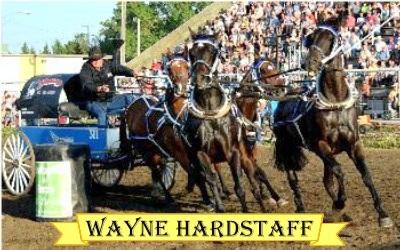 Started cart -1983 wagon - 1985
2014 proved to be Wayne's most successful year of racing since he
joined the APCCA in 1983, placing first in Alberta in wagons.
He shared the Family of the Year Award with his wife Elaine, sons
Dallas and Kelsey and his wife Audina and his children Kagan
and Brookelynn.
His accomplishments are
: 2014
APCCA chuckwagon champion
left hand lead horse of the year
family of the year
:2013
2nd place APCCA chuckwagon
right hand lead horse of the year
:2012
2nd place APCCA chuckwagon
:2011
4th place APCCA chuckwagon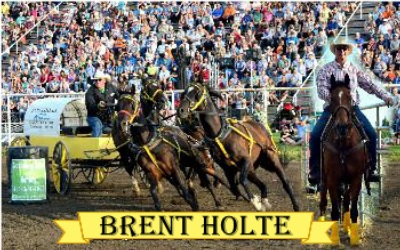 started 1998 Brent's wife Lynn and two kids, Jocelyn and Tyler,
enjoy going to the races and meeting new friends. He enjoys
racing and trying new horses on the wagon. Winning is not a
priority but will take it if it comes. Calling penalties on the track
isn't his favorite thing but enjoys the challenge of catching an
outfit having trouble.Brent is hoping to help some other
outriders that want to learn as we are getting short of
help.Hopes to have a fun and safe summer and extends that to
everyone. Everyone is welcome to stop by and say hello.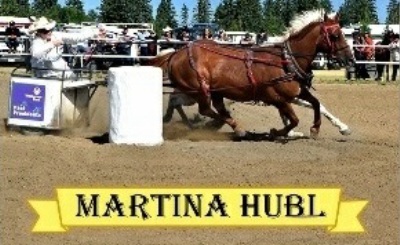 Martina is a third-generation driver taking after her parents Marvin and Linda, and her Shippelt family. Starting in 2011 she raced miniature horses in the Stars of Tomorrow alongside her brother Zach. In 2016 she raced her rookie cart year, and then in 2019 she won the North American Championship with her cart in Red Deer Alberta. In 2022 she won Rookie Wagon Driver of the Year.
Martina lives in the Eckville area and has a Bachelor of Communications degree from MacEwan University.

Marvin was born and raised in the Eckville area and began racing after meeting Linda in 1983. He drove a chariot for about five years just to learn how to drive, and then jumped into the wagon in 1989 and has been there ever since.There have been many highlights including buckles, trophy's, prints,coats, and a trophy-skinning knife. Don't miss the next race because times a wasting.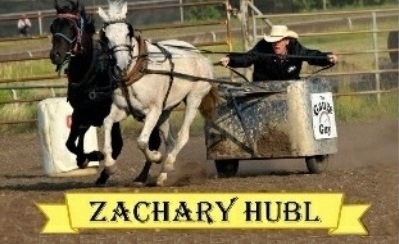 Started racing in 2017. Zach races with his family Marvin, Linda and Martina.
Kim has been racing a chariot with Bengtson Racing Team since 2014. Her cart has consistently been in the top 10 at the end of the season. In 2017 she was honoured to receive the Ben Rookes Memorial Safe Drive award and the Leo Cartier Memorial Award for left cart horse. Kim's looking forward to the upcoming race season and is thankful to the fair boards and sponsors that make our event possible.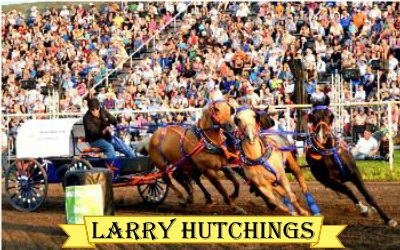 Started carts 2011 wagons 2016
Larry is also a rodeo bull fighter, does endurance racing and starting roping this year. In his spare time he manages a Farrier store. Larry started racing by watching Wade Martynek race and decided to try for himself. He has served as an associate directory for 2015 and 2016 seasons.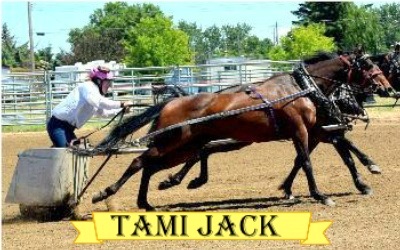 Started carts in AB. 2001
Tami has been racing in Saskatchewan for several years. She started racing in Alberta in 2001 and continues to race in both provinces. In the off season she likes to train and ride horses.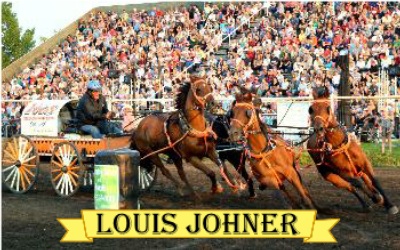 Started racing 1971
Louis has been racing for over 30 yrs. driving chuckwagon and chariot. He won the North
American Championship in Red Deer in 1980 and 1990 and the Northern World Finals in 2005.
Louis won the Highway 43 Club Hi-Point Champ 17 times. Louis's son Barry and daughter
Lorraine have both raced over the years. He's passed his knowledge on to two
granddaughters, Wanda Hansen and Rhonda Fuller.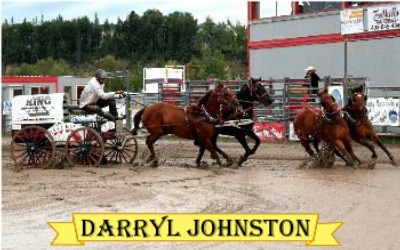 Started racing in 1980. Darryl has many top 10 finishes in his long career. His wife, Connie, is his biggest supporter, daughter Tammy married to Brent Lang, also a driver, son Jason married to Joanne, also a driver. His five grandsons are mini wagon drivers. 3 grand daughters also involved in racing. In the off season he spends time in Texas chuckwagon racing.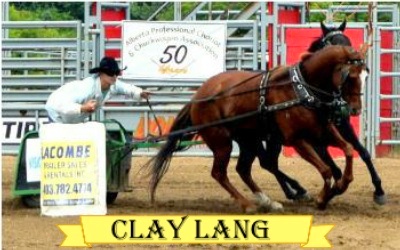 started carts 2012
Clay is following in his fathers footsteps. He enjoys playing hockey and does very well. .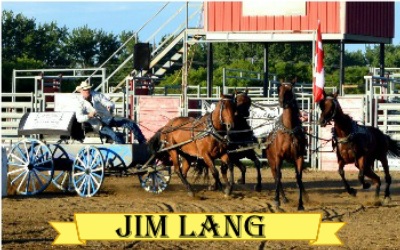 started carts 1990 and wagons in 1991
Jim(also known as Beaker) lives on a mixed cattle farm with his wife, Wendy. He has three children, Dione, Ryelee and Clay. His son Clay is following in his footsteps and races a chariot. Jim enjoys the racing family and friendly competition that goes along with the summer. .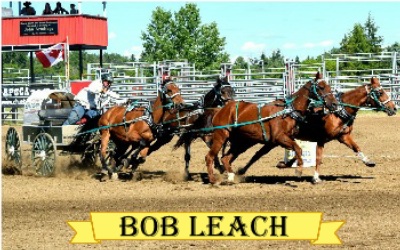 Started racing over 25 yrs. ago
He has won many titles in Saskatchewan and Alberta. He was
High Point Champion in the Provincial Club in 2002, 2003 and 2004.
He won Ponoka in 2005, 2006, 2008 and 2009. In 2011 he was
APCCA Championship wagon driver. He raises and trains horses
with his sons Cody and Denver.

Started carts 2007 wagons 2009
He is a 3rd generation driver who was raised around horses.
He drives carts and wagons and on the side he also
does farrier work. In 2011 he was in the top five wagons in
the APCCA. He was married in 2014 to Heidi Salmond, who
also races.

started carts 2008 wagons 2011
He is a 3rd generation driver who has been around horses all his life. He started in the carts and in 2010 won New Brook. In 2011he won Buffalo Lake and Bruderheim. In 2011 he also won the APCCA Chariot Championship. He also started wagons in 2011.In 2014 he took the year off for shoulder surgery and is back in 2015 for more wins.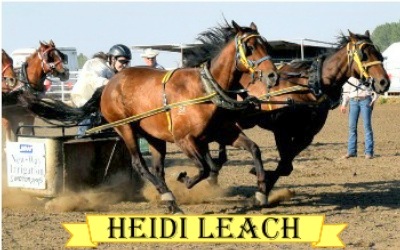 started racing: 2010
Heidi is a hairdresser and is married to Cody Leach. She is one of the many Salmond family members that races chariots and chuckwagons
Brian is a 3rd generation driver originally from Salmon Arm B.C. He moved to Alberta in 2006 and started racing. In 2009, winning the AllPro rookie wagon award. In 2016 the team won the Rio Grande Rodeo Aggregate and dash for cash. His wife Juli and two boys, Brady and Carter, travel to as many shows as they can in the summer to make sure Brian has at least 3 people cheering him on. Brian has been sponsored by Carlan Services from Whitecourt for 6 years and can't thank them enough for their continued support. His goals for each year are to ``keep the lows high and the highs in perspective`` and avoid any and all confrontations with the barrels.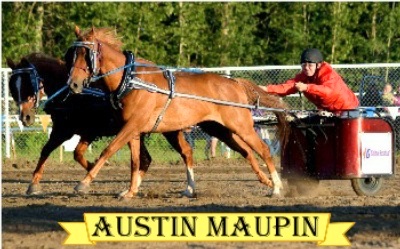 started 2016
She started racing after her dad got the bug. Austin got her own team and won the APCCA Rookie award for 2016
In 2011 Todd started out sponsoring outfits at races in Rocky Mtn. House. He got to know the drivers and each year got more involved with the sport. In 2015 he hooked his first chariot and started racing. 2016 the Maupin's shared the Family of the Year Award with the Bell Family. 2017 Todd started driving wagon and won Rookie of the Year! 2018 Todd won the much deserved Most Sportsmanship Driver and in 2119 Todd received the Greg Smith Most Sportsmanlike Buckle from the Smith Family. Along with driving a wagon Todd also keeps busyas an Associate Director. Todd is very thankful for past, present and future sponsors and looking forward to many more years of summer get togethers and racing.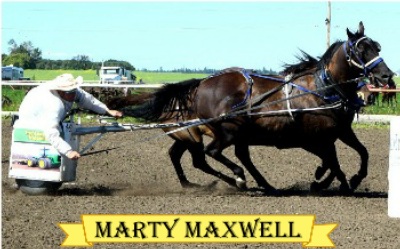 started carts 1984 wagons 2002
Marty is a second generation driver who followed in his dad,Garth's footsteps. Garth was one of the original founding members in 1968. Marty has been around the races all his 50 some years of life. He has served as a director, President, measuring crew and other committees. He has raced on every track the association has and most likely has won on it or maybe even won multiple times. Marty started driving chariots at a fun run in 1983 at age 15 and started wagons in 2002, winning rookie of the year. His biggest passion is the chariot and has been very successful at it, winning 1st and 3rd overall in the APCCA in 2017. Marty attributes most of his success and many show titles to his hard turning chariot teams. He has always been a very hard working and dedicated member of the APCCA.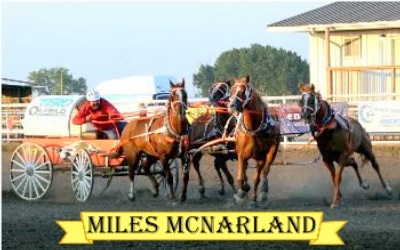 started cart 1993 wagon 1996
Miles is a single father with son Gibson and is a 2nd generation driver. He was a three time Manitoba High Point Chariot Champion and in 2005 he was Manitoba Stampede Chuckwagon Champion. For many years he has served on the Manitoba Association Board of Directors. He has served as Vice President of the club and now is the President. He has competed all over western Canada and was selected to drive a wagon at Rodeo Houston in Houston Texas.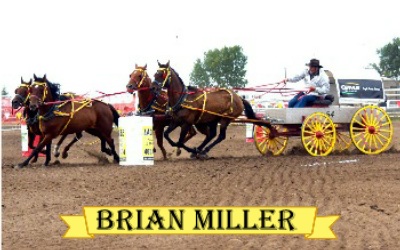 started carts -1985 wagons -1987
He is a trucker for Grace Cattle Carriers. His son Tyrel and daughter Dezerea both race. His wife Bonny often helps with timing.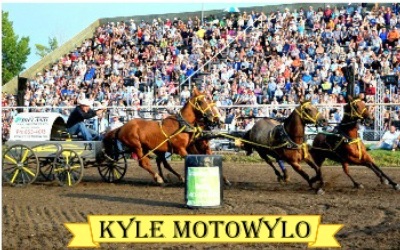 started cart 2004 wagon 2007
He is a third generation driver who usually is in the top ten. He took top rookie honors in the Clover Park Club for carts in 2004. He won rookie wagon driver in the APCCA in 2007. He also has served as Associate Director in the APCCA.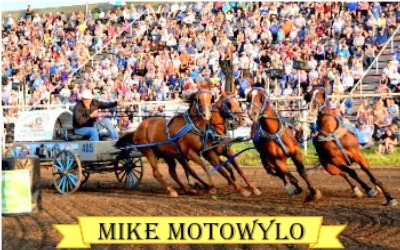 started cart 1982 wagon 1986
A second generation driver who started out the same time as his father Harry. He has been first in his club on occasion and is a top finisher most of the time. He has been racing carts and wagons for over 30 years.
Started racing chariot in 1999 and Wagon in 2007.
Rob grew up in Watson Sask. and has been around chuckwagon racing all of his life. He started chariots at age 16. He moved to Lloydminster in 2003 to pursue a career as a heavy duty mechanic. When the time was right in 2007 he decided to start his own chuckwagon outfit, racing all over Alberta and Sask. In his first year he won Rookie Wagon Driver of the year and has been improving his team every year since. In 2012 his horse Roy won left pole horse of the year and in 2014 his horse Edgar was also named left pole horse of the year. In 2017 he had three show championships and placed top three in the majority of shows that year. He moved to Ardrossan AB. in 2012 to be with his wife Kaila who he married in 2014. In 2016 they had their son Bentley and in 2018 their daughter Brinley.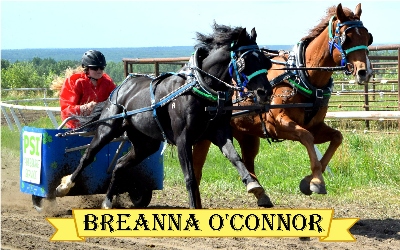 Breanna is a 3rd generation driver following her papa Dan O'Connor and Dad Jim O'Connor. She is no stranger to racing as she has grown up on the track her whole life. 2018 she won Rookie of the Year and placed 13 overall!! In the off season Breanna works incredibly hard in school and achieves honors every year! Her other love is basketball. When she's not racing she spends every free minute on the basketball court. She looks forward to many summers of racing and is very thankful for all current and future sponsors that make racing possible!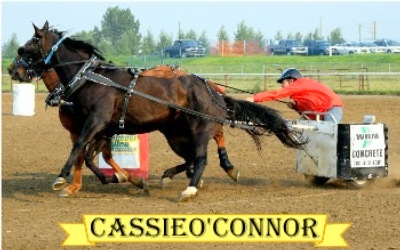 Cassie started racing in 2005 at the age of 15, as a second generation driver following in the footsteps of her dad and brother. That year she won the Central Club Rookie Championship. In 2011 she won the first of three back to back Patricia Rodeo Championship and fourth place overall in the APCCA. In 2012 and 2013 Cassie won the APCCA Chariot Championship. Cassie is the current Secretary/ Treasurer for the APCCA.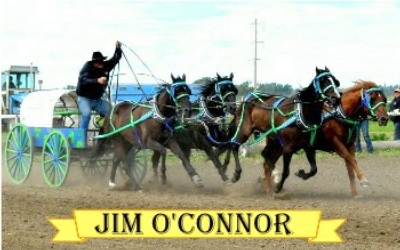 Jim is a second generation driver, following in the footsteps of his father Dan O'Connor. He started racing a cart in 1990 and wagon in 1992. He has won rookie champion in carts and wagons and won several shows such as Ponoka, Rocky Mtn. House and Buck Lake. 2017 Jim won the ``Greg Smith Memorial Buckle`` for Sportsmanship at Vermilion. He has been consistently placing in the top 10 for aggregate standings and placed in the top 4 in 2017. 2018 Jim won the Most Dedicated Driver. Jim is currently a Director for the up coming year and is also always willing to drive for others when needed. His biggest fans are his daughters Breanna and Kallie.
Jim very thankful for all current and future sponsors that make racing possible!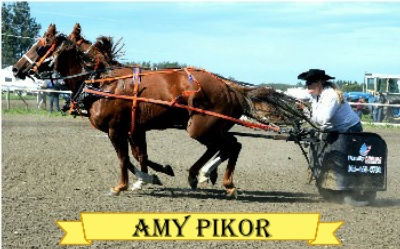 started driving 1999
I started getting involved when our family toured the circuit watching the Smith family in 1998. Dad and I were hooked. We gained knowledge of the sport from some of the legends like Bob Sproule, Don Smith, Jim Becker and Greg Smith. None of which you'd find in a book. I did the circuit with Dad until I met the Cooke family in about 2005. I drove teams for Gary Cooke as well as my dad.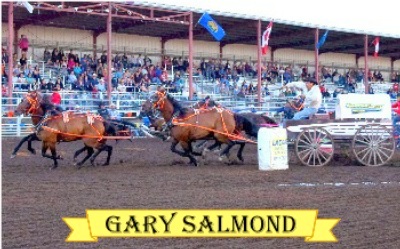 Started racing 1991
Gary was born into a wagon racing family. From the time he could walk, he was racing with friends around pop can barrels with baler twine lines. At the age of thirteen, he climbed into a chariot and has been racing horses ever since. In 1992 he was the Manitoba Chariot Champion. In the summer of 1994, he and his family moved to Alberta where Gary was the rookie wagon driver. He had the fastest track time in Grande Prairie in 2004 penalty free years in 2004 and 2007. In 2008 he was Williams Lake Chuckwagon Champion, North Thompson Stampede Chariot Champ and Dash for Cash winner in Williams Lake and Red Deer. Gary has raced all across Canada and the States. He is looking forward to another good year of wagon racing with his family and friends.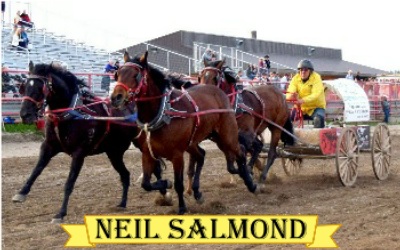 started racing 1974
He has been racing carts and wagons across the prairie provinces for over 40 years. He has also been racing in the USA. Neil and Barb's three kids Wade, Evan and Heidi are all drivers in the sport. They all are top contenders.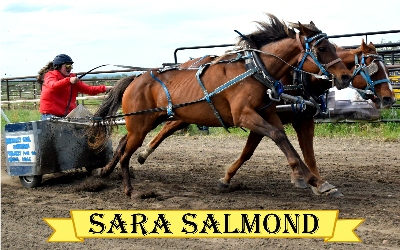 Sara is a 3rd generation driver and was raised around racing her whole life. Her dad and grandfather also came from a racing family. 2018 is her rookie year in the chariot
started racing 1993
Wade and his father Neil have been racing in all the prairie provinces including the USA. for a number of years. They raise their own thoroughbreds which are in great demand. Wade has won numerous championships and is always a top contender.
In 2013 he started following pony racing. Having owned other horses all his life he thought that this would be a fun sport to get involved in. He purchased two horses in 2015 and were part of Marty Maxwell's teams in the 2016 and 2017 race seasons. In 2018 the horses were under Alan's name. They were driven by Jim O'Connor as he suffered broken ribs. It is his intention to drive this year to enjoy the adrenaline rush. There is nothing like being around the horses and great people in the sport.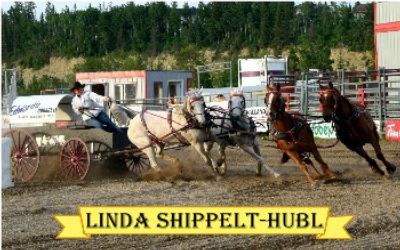 Started racing 1974
Linda has enjoyed chariot and chuckwagon racing for many years. She followed William and Jean Shippelt into the family sport with chariot racing and fast barrel turns. Marvin came on the scene to be hooked on racing, married Linda and was instrumental in getting them both into the ``wagon seat``. Now their two children are continuing in the family tradition, feeding working horses and racing their own miniatures in the Junior Driving Program. Always competitive,Linda finished well both in 2011 and 2012 and is looking forward to another year of chuckwagon racing.
Karsen was born into chuckwagon racing. He is a third generation driver, travelling all summer with is Papa Jack, Aunts Tracey and Lori and Uncle John. His dad and mom Jonathan and Karen BigCharles were also racers. His sister Savanah and brother Nevada will be looking up to him as they want to start driving in the future as well. Karsen was a chariot rookie driver in 2018 and chuckwagon rookie driver in 2019. He started his journey in the Junior Driver Program. In the winter he plays hockey.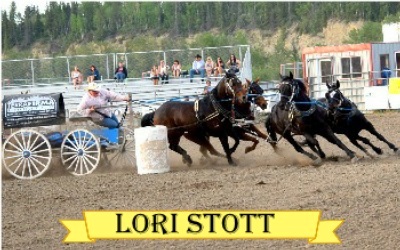 started cart 1995 wagon 2003
Nick named ``Lou`` she has been around horses and chuckwagons all her life. She grew up a barn brat with her other siblings.She joined the Stott Racing Team racing chariots the graduated to the wagons. The team includes her dad Jack, her sister Tracey, her brother John, and brother in law Jonathon Big Charles.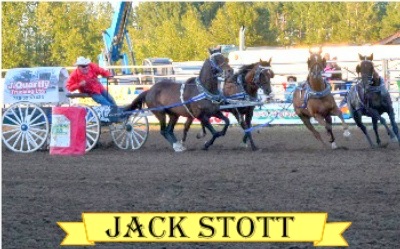 started racing 1970
He started racing in the Clover Park Club out of Ft. Saskatchewan. He moved to the Olds area in 1979 and joined the Eckville Club. He is proud of the Stott Racing Family which consists of himself, two daughters, one son, and one son-in-law. His grandchildren are also well on their way to following tradition. He has many wins over his lengthy career and quite often is in the top ten. Along with his kids, he enjoys raising, breaking and training horses.
John Stott
Born in 1982 in Olds, now calls Lacombe County home.
Career highlights:
1998 Chuckwagon Rookie of the year
2004- Mountain View County Fair, Olds AB
2017- Rio Grande, Rycroft, Patricia and Northern Tour Champion
2018- Rio Grande, Rockyford, Sundre Bulls and Wagons and Northern Tour Champion, 2nd place at Rocky Mountain House Championship as well as Red Deer
2019- Rio Grande, Rycroft Jim Johnson Memorial, Northern Tour Champion, 2nd place at Rocky Mountain House and Red Deer
2021- Viking and Red Deer Championships and placed 2nd in APCCA Tour Standings
John is a second generation chuckwagon driver who travels throughout the summer racing with his dad Jack, multiple sisters, son Kaden, his girlfriend Laura as well as multiple nieces and nephews. Johns Grandfather Jack drove Stagecoach at the Edmonton Klondike Days which gave the family its start in driving wagons. John is a devoted family man with 3 children, in the off-season John often works away from home as a Boiler Technician. When he isn't away working he can be found training upcoming Chuckwagon horses, horseback riding with Laura and spending time with his family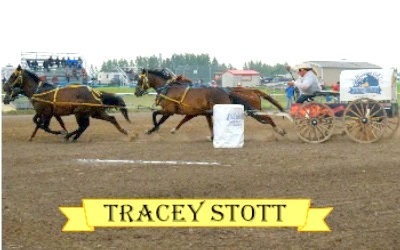 Tracey is from a long line of racers in her family. Her dad Jack, sisters Lori and Karen, brother John, brother in-law Jonathan BigCharles, nephew Karsen Stott and niece Savanah BigCharles have all picked up the lines. Her other nieces and nephews have also made their start in the Junior Driving Program. Racing is truly in her blood. Tracey enjoys breaking horses with her family and watching them succeed on the track. With a few wins over the years, her most memorable is her Grandpa's memorial trophy in Olds. In the winter Tracey enjoys curling and coaching hockey.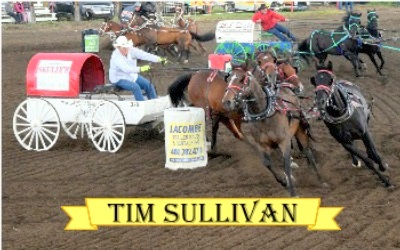 started racing 2007
He started racing with green broke horses which he raised himself. Tim also raises horses for pleasure.: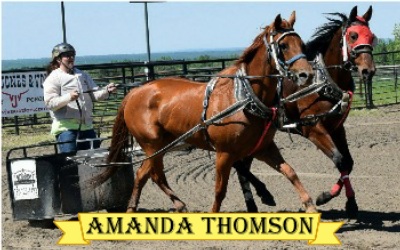 started carts 2008
Amanda has been racing since 2008. She started out with a real reliable team the first year learning the ropes and has since acquired some new horses. After taking a couple years off due to pregnancy she has returned to racing in 2014 to race along side her husband Chance Thomson. She has a couple of accomplishments including the Sundre Bulls and Wagons Top Chariot in 2011 and also a few best dressed awards for her eye catching colors. Amanda and Chance have a daughter Khloe, and son's Layne and Colby.
Started carts 2003 wagons 2005
Accomplishments: 2004 Peace River Pony Racing Assoc. Most Sportsmanlike Driver. In 2005 in APCCA Rookie Chuckwagon Champion, Highway 43 Rookie Chuckwagon Champion, New Brook Best Dressed Outfit. In 2011 Buck Lake Stampede Chariot Champion, Sundre Chariot Champion. In 2013 Buck Lake Stampede Chuckwagon Champion, Sundre Chuckwagon Champion, Bruderheim Chuckwagon Champion, Red Deer consolation dash winner and the Drumheller Wagon Champion. About Chance:2014 will be Chance's 12th consecutive year as a member of the APCCA, he has also raced with the ALLPRO's, the North West, Prince Albert and Peace clubs. He also served 2 years as a director in the Peace Club. Competing in shows from Chilliwack BC. to Unity Sask. and as far north as Fort Nelson BC. Chance got his start in wagon racing working for fellow competitor Bruce Miners. Chance is the great grandson-law to former driver Bruce Miners.Chance and Amanda have a daughter Kloe and son Layne and make their home at Buck Creek AB.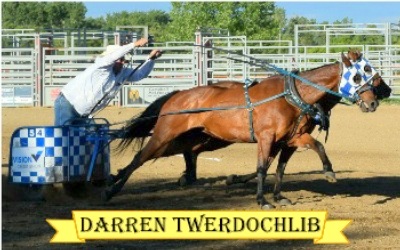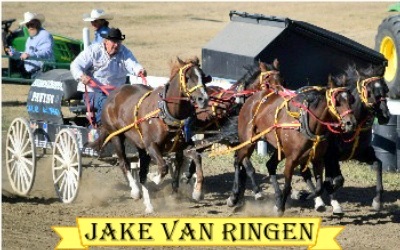 started carts -1973 wagons-1976 Jake came to Canada when he was eight. He is a farmer and enjoys racing.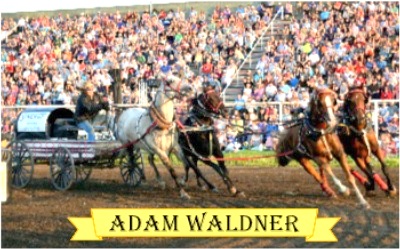 started cart 2012
Adam started out as an outrider in 2011. The next year he got into a chariot and hasn't looked back. He was rookie cart champion and placed 3rd overall in 2012. In 2013 he finished 2nd overall and finally in 2014 he succeeded to win overall champion cart in the APCCA. In 2015 he drove the champion chariot for the second year in a row in the APCCA. In 2016 he drove the Mark Harris Memorial wagon and achieved Rookie of the year and second overall. In 2017 he finished 3rd overall in wagons and serves on several committees. Adam has taken up farrier work on the side and has attended farrier school in the USA.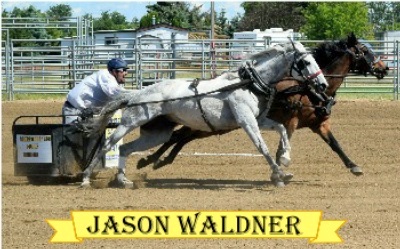 started cart 2017
Jason followed Adam around the race circuit and soon was driving his own outfit. He also gives Adam a hand with farrier work when needed. Jason won the APCCA Rookie Chariot buckle and would like to thank his friends, family and sponsors for making it possible.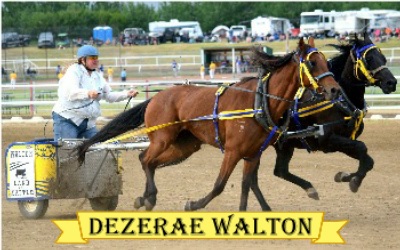 started carts 2002
Employed by Continental Cattle Carriers Ltd.- book keeper. Dezerae has been around the track all her life. Her dad Brian Miller started racing in Saskatchewan in 1985 and then moved to Alberta in the fall of 1989. In 2002 she started racing a chariot and has been in three Dash for Cash races in Olds over the years. Now she usually drives two teams, one of which is for breaking young horses. She enjoys watching her horses progress in their racing careers. She got her now husband Tyler behind the chariot lines in 2015 and hopes to one day see their son Rhett race as well.
started carts 2015
Employed by Westmoreland Coal Company-Sheerness Mine Heavy Duty and Auto Mechanic. Tyler has been racing since 2015 and was Rookie of the Year in the All-Pro Club. In 2018 Tyler is jumping into the wagon box and hopes to become Rookie of the Year again. When he is not working at the Sheerness Mine or racing, he operates a 300 head ranch with his parents and his wife Dezerae.
started cart 2002
outrider 2004
Jerry started driving carts then switched to outriding. He has one of the best horses around for outriding called Dino. He was influenced by his dad Joe and Chester Blatz. You can always spot Jerry by his very colorful shirts and leg wraps.
started carts: 2015 wagons: 2018
This season will be Casey's rookie year in a wagon. Racing runs in the family as he trains and travels with his dad and sister Emily. After racing a chariot for the past 3 years Casey has decided to follow his dad Todd and great grandfather Artie's footsteps and race a wagon. Casey is a great advocate for the sport-he is an associate director and you will find him and his sister promoting the sport at schools and other events.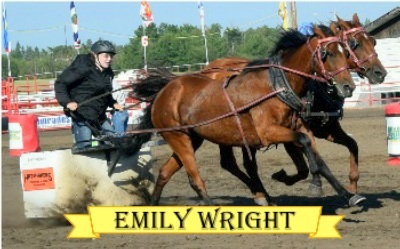 started cart: 2016
Racing being in the family and after years of barrel racing Emily decided to follow her dad and brother's foot steps and started racing a chariot. Emily is a great advocate for the sport as you will often see her sharing her passion and helping promote the sport at schools and other events. Emily has been awarded a scholarship from the APCCA and been awarded a buckle for Dedicated driver of the year.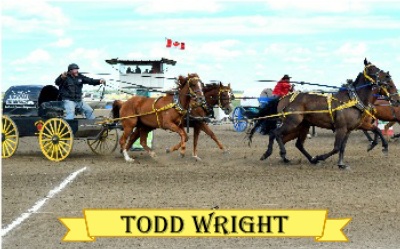 Todd started raing a chariot in 1996 winning Rookie of the year. He then contuined on, racing a chuckwagon in 1997 again winning rookie of the year. Todd's proudest years is when his son Casey joined him racing in 2017 and his daughter Emily in 2018.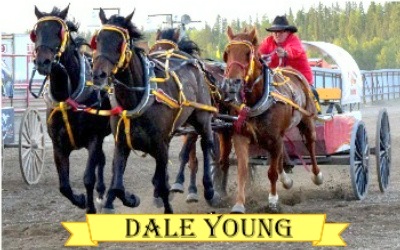 started racing 1992
Dale grew up with the sport of Chuckwagon and Chariot racing, so it only seemed natural that he would step into a wagon box. He has raced many places throughout Manitoba, Saskatchewan and Alberta. He is excited again to partner up with the Calgary Flames Ambassadors to promote their favorite hockey team. Dale enjoys traveling with his family down the road from show to show. The invitation is always open to stop by the Flames wagon and get your picture taken.